BIG NEWS: The Wooderboys have partnered with POINTSBET! Sign up today and use Promo Code WOODERBOYS to sign up now and get free money to bet with. A $50 deposit gets you $100 in credits, $150 gets you $300, and $250 gets you $500 in credits! You'd be stupid to say no to free money. Don't be stupid.
Currently this promotion is only available in New Jersey for new customers that haven't made an account and deposited yet. But just like The Wooderboys, POINTSBET ain't going nowhere! We're growing, they're growing, but if you're heading down the shore for Labor Day download this app once you cross over the bridge and make a deposit. It's. Free. Money.
Best Bets of Confernce Championship Games
Best bet record for the playoffs: 0-6
Well, it's fair to say I think Helen Keller could be picking these games better than I could. 0-6 is not bad it has to be unlucky. Of course the only game I got right last week via the spread was the one not on my best bets list which was CLE +10. This week there is only 2 games. Both games will count as best bets and 1 of them will of course be my guarantee of the week. Which is also 0-2 in the postseason. I can't go 0-8 can I? Read below to find out.
1) Kansas City Chiefs(-3) vs Buffalo Bills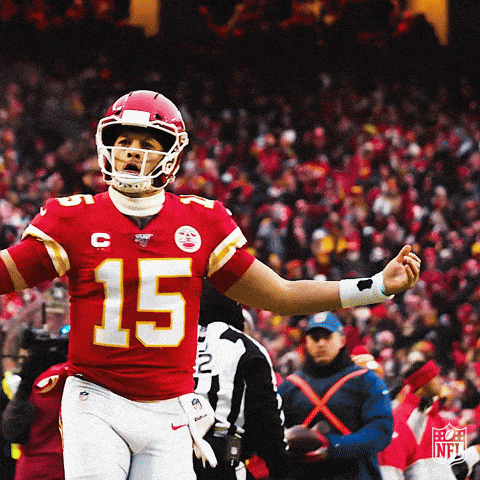 It is only year 3 for Patrick Mahomes as a starting QB in the NFL and he is already hosting his 3rd AFC Championship game. He is 1-1 in his career and if it weren't for a Dee Ford offsides call he would be 2-0. Once again an AFC East team comes into Arrowhead as the underdog but this year it is America's team; the Buffalo Bills. These two teams met all the way back in week 6 where the Chiefs went into Buffalo and won with ease 26-17. Since then the Bills have lost 1 game because of a Deandre Hopkins hail mary and the Chiefs have lost 1 game because they didn't play any of their starters in week 17. These two teams are just to meteors on a collision course and now it's time for the big bang. In the first meeting the Chiefs ran the ball a uncharacteristic 46 times which is the most they did all season. They had 46 rushes for 245 yards (5.3Avg), if the Chiefs can replicate this type of ground game it is going to be real hard for the Bills to win. Josh Allen had worst passing effort that week as well. Allen went 14/27 for 122yds. The Bills are 4-0 ATS in their last 4 road games and 9-1 ATS in their last 10 games overall. The Chiefs are 0-5 ATS in their last 5 home games and 1-8 ATS in their last 9 games overall. The Bills are 5-1 ATS in their last 6 meetings in Kansas City and 1-4 ATS in their last 5 meetings. While the Bills have been covering machines and the Chiefs have not this is. amuch different situation for KC. They haven't had a line this close since they were -2.5 favorites @ NO and they came out and covered. There is a ton of value in taking the Bills in this game as they have been the hotter team out of the two but I'm gonna stick with Kansas City on this as Mahomes and Co. get back to the Superbowl for the 2nd straight year. Chiefs 31 Bills 24
2) Green Bay Packers(-3) vs Tampa Bay Buccaneers PJ's Guarantee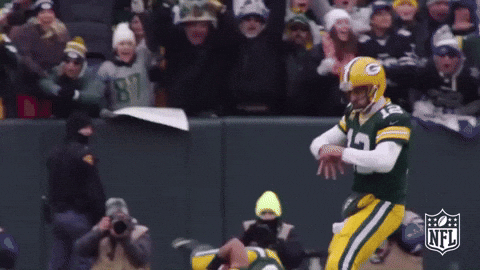 It has taken all the way to year 15 for Aaron Rodgers to host a Championship game in Lambeau Field. Some people would say it's about damn time. For Tom Brady this is just another year for the goat as this is his 14 appearance in the a conference championship game. Of course this is his first in the NFC as he had a very impressive 9-4 record while he was with the Patriots. Yet, Brady numbers aren't as good as you would think in this scenario. Tom Brady has completed 304 of his 488 pass attempts (62.3%) for 3,395 yards with 18 touchdowns and 14 interceptions. That TD/INT ratio is unlike Brady as he is averaging over INT/game. Brady is also just 4-3 when on the road in conference championship games. Yet, this is one is going be a first for Mr. Brady. He has never had to play on the road vs A QB better then him in the playoffs. That ends tomorrow. These two also met all the way back in week 6 as the Buccaneers trounced the Packers 38-10. The Packers actually started the game off hot leading 10-0 after the 1st Q, but it was all Buccaneers after that. Once again it was the run game that was the difference has the Bucs ran the ball 35 times for 158 yards. Ronald Jones had 23rush for 113 yards. There was no Antonio Brown in that game and he will also be out on Sunday but that shouldn't make a difference in my opinion. The biggest concern I have for the Bucs is who is going to cover Davante Adams. The Bucs secondary was in the bottom of the NFL in the 2nd half of the season is passing yards allowed but they had an impressive showing last week vs noodle arm Drew Brees and the Saints. Aaron Rodgers is a whole different animal. Tampa Bay is 5-2 ATS in their last 7 games overall and 4-1-1 ATS in their last 6 games as an underdog. Green Bay is 7-2 ATS in their last 9 playoff games and 5-2 ATS in their last 7 games overall. The home team is 5-2 ATS in the last 7 meetings between these two teams. If NFL history has ever taught me anything is, that you do no bet against Tom Brady. Yet, of course I will as I just don't think TB will be able to force the same amount of turnovers that they did vs the Saints. Rodgers finally gets back to the Super Bowl. Packers 26 Buccaneers 20